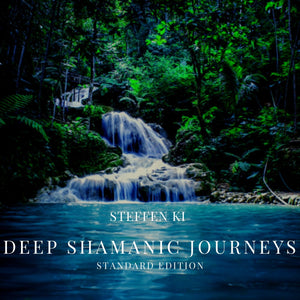 This pack includes more then 200(!) recorded loops and samples ready for you to use in your favourite Music Production and DJ Software. 
This loop pack and template for ableton live is designed with the intention to allow you to easily create your own spiritual and shamanic sound journey.
Whether you teach meditation, yoga or breath work, practice energy healing, facilitate (plant medicine) ceremonies or are a producer that would like to add shamanic and organic vibrations and soundscapes to your work this pack might just be what you have been looking for!
It contains more than 200 high quality organic loops ready to be used in the custom made ableton template or the DAW of your choice. If you are a digital Dj you can even load them into your dj software to add some jungle ambience and meditative and shamanic vibes to your mixes and spice them up with transition FX or additional Perucssions Loops.
The loops contain :
🔥 DEEP DRONES for a hypnotic vibe and grounding atmosphere
🔥WARM PADS to add emotional depth and harmonic movement
🔥SHAMANIC DRUMS and Percussions to create drive and rhythm
🔥NATIVE INSTRUMENTS like Flutes, Didgeridoo, Hang and Pan Drum to give your journey a certain color and lead
🔥FIELD RECORDINGS OF NATURE to connect deeper with the wisdom and healing power of the Earth
🔥SPECIAL EFFECT SOUNDS like Rainmakers, Chimes, and Foley Sounds to ambience, accent certain parts or create interesting transitions
 Here you can listen to the Demos:
Steffen Ki · DEEP SHAMANIC JOURNEYS (Standard Edition) Demo Tracks
ATTENTION! THIS TEMPLATE IS NOT WORKING IN LITE VERSIONS OF ABLETON,YOU NEED STANDARD OR SUITE VERSIONS OF AT LEAST ABLETON 9.7.7 (the latest update of Live 9) or higher in order for the template to work!!!
 If you are using a LITE version you can also get a fully working FREE 90 day trial version of Ableton Live 11 SUITE at www.ableton.com

If you experience issues with the download please contact me on medicinemusic@posteo.de I am happy to help you out and make sure that you receive what you have ordered, however there will be NO REFUNDS once you have placed an order.
 We recommend you to dl one folder at a time! Start with the project file folder ("DEEP SHAMANIC SOUND JOURNEYS Template (by Steffen Ki) Project") if you work with Ableton because it contains the samples and loops already.
If you are using any other DAW or DJ Software just dl the Loop Folder (DSJ_ LOOPS & SAMPLES)

For questions and support send an email to: medicinemusic@posteo.de

After the payment a download-link for the zip-file will be sent to you automatically via email. You need a program to unzip this file.
For windows I recommend to use winrar which you can get here for free:
https://www.win-rar.com
If you work on a mac I suggest to use keka which you can dl for free here:
https://www.keka.io