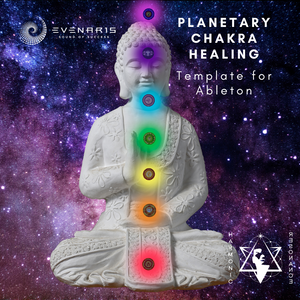 The PLANETARY CHAKRA HEALING TEMPLATE was created in collaboration with the Sound Therapist and Electronic Music Producer Evelin Ludwig aka EVENARIS. Our intention was to provide a tool to easily create, perform and record Sound Healing Journeys and Meditation Music that aid in activating,balancing and cleansing the Chakra System.
Evelin provided high quality studio recordings of her planetary tuned sound healing instruments like Tuning Forks, Gongs, Monochord,, Crystal Bowls and Tibetan Bowls which we transformed into loops and samples and complemented them with Sound Scapes and Ambient Sounds created by the Sonic Alchemist Steffen Ki.
Planetary Tuning goes back to the discovery of the Swiss Mathematician and Music Scientist Hans Cousto who calculated the frequencies of the planets within our solar system and by using the principle of the "Cosmic Octave" translated them into a Tone, Frequency, Tempo and Tuning that we can apply to tune instruments and create healing sounds and meditative music that has a harmonizing effect. Sound Healing instruments some of which were used for this template like Gongs, Tuning Forks and Singing Bowls are produced tuned to the frequencies based on his calculations.
We based our template on those calculations by Hans Cousto:
Root Chakra: Earth Day 194.18 Hz, Tone "G", Tuning 435.9 Hz, Tempo 91 Bpm
Sacral Chakra: Synodic Moon 210.42 Hz, Tone "G#" Tuning 445.86 Hz, Tempo 98.63 Bpm
Solar Plexus Chakra: Sun 126.22 Hz, Tone "B" Tuning 449.8 Hz, Tempo 118.3 Bpm
Heart Chakra: Earth Year 136.10 Hz, Tone "C#" Tuning 432.10 Hz Tempo 63.8 Bpm
Throat Chakra: Mercury 141.27 Hz, Tone "C#" Tuning 448.51 Hz Tempo 66.2 Bpm
3rd Eye Chakra: Venus 221.23 Hz, Tone "A" Tuning 442.46 Hz Tempo 103.7 Bpm
Crown Chakra: Platonic Year 172.06 Hz Tone "F" Tuning 433.56 Hz Tempo 80.60 Bpm
So each Chakra has its specific tuning, tone, frequency and tempo and all the instruments and sounds are tuned and timed accordingly to achieve a maximum of harmonic resonance atonement. All the sounds are organized, tuned, mixed and color coded for you to start performing or playing right away. We added a powerful FX rack on each Channel to tweak your sounds and add performance FX like EQ's, Filters, Delay and Reverb.
The template was designed with pure love and the highest intentions for anyone who wants to work with sound and frequencies in a healing context and contains over 240 Loops & Samples organized in  2 main Pillars:
SOUND HEALING + SOUND JOURNEY
SOUND HEALING SECTION:
12 Tuning Forks (total of 84) for each Chakra (including planetary frequencies, organ and mineral tones) intuitively selected and recorded by Evenaris.
Crystal Bowl and Singing Bowl Loops (total of 32) for each Chakra (including sustained and hit recordings)
Planetary Pure Tones (total of 14) for each Chakra (to amplify the sonic atonement)
SOUND JOURNEY SECTION:
6 Specific Instrument Loops (total of 42) for each Chakra (selected and recorded accordingly to the "Theme" of each Chakra)
4 Pad Sounds (total of 28) for each Chakra (to add warmth, emotion and color to your Journey)
4 Drone Sounds (total of 28) for each Chakra (for a grounding and entrancing effect and a powerful low end in your journeys)
2 Ambiences (total of 14) for each Chakra (to include the Healing Frequencies of Mother Nature)
 If you experience issues with the download please contact me on medicinemusic@posteo.de I am happy to help you out and make sure that you receive what you have ordered, however there will be NO REFUNDS once you have placed an order.
Important Notes:
Please make sure to watch the tutorial video above to see how the templalte works!
You need the latest Suite version of Ableton 10 or higher for the template to work properly.
After the payment a download-link for the zip-file will be sent to you automatically via email. You need a program to unzip this file.
For windows I recommend to use winrar which you can get here for free:
https://www.win-rar.com
If you work on a mac I suggest to use keka which you can dl for free here:
https://www.keka.io
If you have any questions or problems please send me an email to medicinemusic@posteo.de