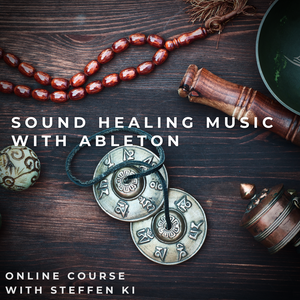 This course is for people who are new to ableton or have just started and want to learn how to create their own sound healing journeys and healing frequencies in ableton.
All you need to get started is Ableton (you can get a fully working 90 day trial on the website www.ableton.com) and Headphones. You will be provided with templates, Loops and Samples to help you start with high quality sounds right away.
In the playlist above you can listen to some of the sound journeys that I have produced to give you an idea of the vibe.

The schedule can be adjusted and is flexible and features the following modules:
1. Introduction into Ableton
2. Working in Session View
3. Working with Audio (Loops & Samples)
4. Working with Midi (Software Instruments)
5. Working with  Healing Frequencies (Solfeggio Frequencies, Planetary Frequencies, Sonic Geometry)
6. Creating  Binaural Beats & Isochronic Tones
7. From Session to Arrangement
8. Basic Mixing
For questions and more details feel free to send an email to:
info@harmonic-resonance.com
After the purchase of the class I will send you a link with my calendar so we can find a time and date for it.
Infos about your instructor:
 Steffen has been producing electronic music for more then 20 years now. He is also the curator of the medicine music label NUMA and co-founder of In Spirit : Holistic Music Production Retreat - a retreat that fuses the technical aspects of music production with spiritual practices to channel creativity and inspiration.
Up until today Steffen has produced and released more than 100 tracks in the genres of Deep House, Melodic Techno, Organic Downtempo, Ambient, Sound Healing and Meditation Music. He shares his experience in personal and online 1-on-1 classes as well as music production workshops and he recently founded the Academy for Sonic Sourcery an online community for magical music production.

 Follow Steffen's music here:
https://soundcloud.com/steffenkirchhoff
https://soundcloud.com/alunaritualmusic
Join his Academy here:
https://ko-fi.com/sonicsourcery/tiers
Looking forward to co-create with you!
Steffen