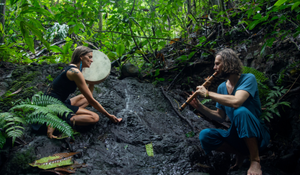 Create Magic with Sound! In this course I will show you how I created the track "Awake" which you can listen to below.
I have created a very beginner friendly Online Course on how to create a Shamanic Downtempo Track from Start to Finish.
We will explore all the aspects of the workflow that I have developed and refined during my 15 year journey as a producer and teacher.
We will look at how ableton works and how we can play and interact with it to have fun and manifest our visions into a sonic reality.
After analyzing a reference track to get an idea about the core elements and structure of a Shamanic Downtempo track we will embark on a journey to create a track together.
We go over all the steps from generating ideas and jamming in session view to applying fx to make your sounds more interesting all the way to arranging and mixing the track.
After the course you will have the knowledge and tools to create your own first Shamanic Downtempo Track.
To kickstart your inspiration and provide you a vast selection of beautiful shamanic and ceremonial soundscapes the course comes with 2 of my best selling Ableton Templates:
Downtempo Shamanico & Organic Shamanic House (VALUE: 105 USD)
This course is mainly for beginners but even if you have already some experience as a producer but are new to the genre it might give you some inspiration and interesting ideas and perspectives.
More infos about the course here:

https://steffenki.thinkific.com/courses/shamanicdowntempo