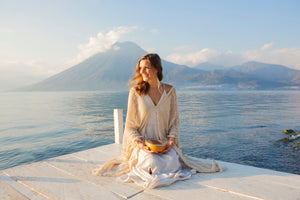 Listen deep within.
The nature is whispering inside you.
Embody this sound and be the vibration of your creation.
Listen to the symphony of life.
It's pulsating in our hearts.

Maywa guides you to explore consciously this vibration in our essence, voice and bodies, to share your unique gift with the world.

Opening this journey with a personal guided sound (re)connection. Grounding yourself in to simplicity. Cocreating this journey together from a space of listening and silence. Practicing with several breathing- and toning-techniques. Breathing from the earth, from our roots, like trees, to empty yourself and listen deeply.

Gradually opening your true voice and reconnect with your primal breathing, your ancient memories to (re)discover the joy of our unique gift.
Maywa will be designing a personal guided journey for you to live your full potential and share the next level of your gift with the world.
About Maywa:
 Educated in Voice, Music, Dance and Theater Maywa has always been a free spirit who has been following the path of her excitement since her early childhood.
She has always felt a deep connection to nature and spent more than 10 years travelling and living in South- and Meso-America (Mexiko, Chile, Peru, Colombia). She spent several years  in the jungle and started to write her own medicine songs and to deepen her connection to the plants and spirit world as she learned with shamans and plant medicine healers and worked as an assistant in their ceremonies and rituals. She lived 2 years with the Shipibo "Mamitas" in Peru and worked with the plant medicine known as "Ayahuasca".

Maywas biggest inspiration for her healing music is listening to nature. She   writes and sings her own "Ikaros" (healing songs) in ancient indiginous languages like Quechua, Mapuche, Shipibo and Kogi but also in spanish and english.

She has performed and facilitated voice & body workshops and sound healing sessions all over the world including "HEART" & "Woomoon" (Ibiza), "Reserva One Love" (Colombia) "Eagles Nest" (Guatemala), "Papaya Playa Project" & "Aqua Viva" (Mexiko, Tulum). 


Instagram:
http//:instagram.com/maywamusica

Soundcloud:
https://soundcloud.com/maywa