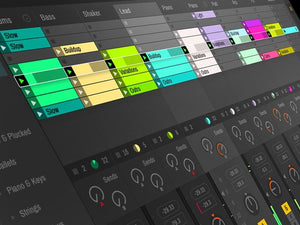 This 3h class bundle includes 3h hours of private online classes with Steffen Ki plus more then 10GB of Samples & Loops (total value 300 USD!) in the genres of Ambient, Downtempo, Ethnic, Tribal and World Music to spark your inspiration!
There are 4 main courses:
1. Basic Introduction into Music Production with Ableton Live:
This course is for people (musicians, Djs, music enthusiasts) who have no background in music production or who have just started working with ableton and would like to dive deeper into the great creative potential and take their skills to the next level
we will cover topics like:
- understanding the basic principle, main features and workflow of ableton (user interface, session view, arrangement view, browser etc.)
- working with audio loops
- recording audio and midi
- making beats
- turning your loops into an arrangement
- basic mixing techniques (EQ, Compression etc.)
- creative use of audio effects for mixing and sound design
- basic music theory
2. Medicine Music Production
This course is for people who already have a basic understanding and experience in music production.
In this course I will share my approach to music production and share my own workflow and share in depth with you how I produce for Steffen Ki & ALUNA Ritual Music
I will share:
- my ableton projects
- my step by step workflow on how to create a track from start to finish
- break down my arrangement
- my fav plugins
- special tips and tricks
- how to create an organic,shamanic vibe
- how i mix my tracks
I will also have a listen to your projects and give my feedback and perspective.
3. Creating Sound Healing Journeys with Ableton
- making sound scapes for guided mediations and yoga classes
- binaural beats
- solfeggio frequencies
4. Djing with ableton Live
- how to set up ableton for djing
- warping your tracks
- harmonic mixing
- ableton effects for your djs
- built your own custom dj effect racks
After the purchase of the BundIe I will send you a link with my calendar so we can find a time and date for it.
Infos about your instructor:
 Steffen has been producing electronic music for more then 18 years now. He is also the curator of the medicine music label NUMA and co-founder of In Spirit : Holistic Music Production Retreat - a retreat that fuses the technical aspects of music production with spiritual practices to channel creativity and inspiration.
Up until today Steffen has produced and released more than 100 tracks in the genres of Deep House, Melodic Techno, Organic Downtempo, Ambient and Sound Healing- and Meditation Music. He shares his experience in personal and online 1-on-1 classes as well as music production workshops and mentors healing music producers in his Academy for Sonic Sourcery

 Follow Steffen's music here:
https://soundcloud.com/steffenkirchhoff
https://soundcloud.com/alunaritualmusic