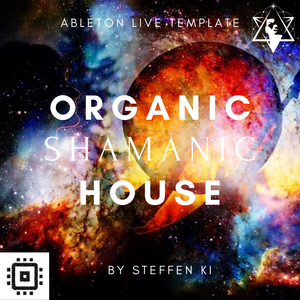 Watch the video for a presentation and demo sounds
STEFFEN KI is back with another magical Ableton Template and Loop Pack called ORGANIC SHAMANIC HOUSE. OSH was created for producers, DJane's and Sonic Alchemists who want to turn the dancefloor into a ceremonial space and enchant the crowd with high vibrational sounds that reflect the beauty of nature. If you are into genres like Ethnic House, Organic House, Tribal House and even Ambient & Meditation Music you will love this template!

The Ableton template contains loops and samples that are organized in groups  and mixed with ableton stock plugins to sound amazing right of the box. You can start right away to jam and improvise with the template to get inspired for your new track or Live Performance. It's easy to find loops that work together because they are all in the same key and tempo. (Harmonic and melodic loops are all in the same key (Eminor) and the tempo is 120 BPM)
The non-ableton users can still enjoy the magic of the loops and insert them into their favourite DAW or DJ-Software. (LOOP-PACK WILL COME SOON, STAY TUNED)

Here is what you get:
The template comes with over 900(!) Loops and Samples covering all elements needed for a deep,emotional,melodic, mystical,organic,ceremonial, shamanic electronic music.
The mood ranges from gentle and bright to dark and mystical, magical and dream-like to relaxing and soothing.

 KICKS (punchy or soft and warm depending on the vibe you are looking for)
 BASSLINES  (Super low groovy Subs, and melodic Basslines for harmonic flow)
TRIBAL- WORLD- AND ORGANIC PERCUSSION LOOPS  (those loops provide your track with a unique organic signature sound and add african and south-and meso-american tribal grooves and organic textures to your beats)
 DRONES  (for that earthy grounding and mystical atmosphere)
 WARM HARMONIES & CHORDS  (evoke deep emotions across the frequency spectrum from low to high with classical Analog Synth House Chords & magical chord progressions playing organic layered textures)

ORGANIC MELODIES  (to give your tracks more dynamic and a leading voice)
NATIVE INSTRUMENTS  (like mystical flutes, didgeridoo, ocarinas, kalimbas and more for the authentic Tribal -and Jungle-Vibe)
MYSTICAL ATMOS & TRIBAL AMBIENCES  (instrumental, natural and vocal atmosphere sounds color your tracks and evoke a sense of dream-like, ceremonial and ritualistic experiences)

NATURE RECORDINGS  (high quality nature field recodings processed with FXs bring the healing frequencies of mother earth into your productions. Jungle & Forest Sounds captured by Day and Night offer you a colorful palette of moods and places to tell your musical tale.

SHAMANIC ATMOS FX RACK
SHAMANIC ATMOS is an Instrument FX Rack for Ableton Live that contains 128 effect sounds which create a ceremonial, ritualistic and shamanic atmosphere

The Rack features various organic shamanic fx sounds and risers like shaker, rainmaker, flutes and various swoosh FX which are great for transitions and intros.
In addition you find sounds that imitate the jungle ambience like wood percussions, ocarina bird calls, rustling leaves and authentic shamanic ceremony sounds.
The sounds are nested into an FX rack that allows control over Echo, Reverb, EQ, and Panning.
By purchasing this template/loop-pack you give back to nature and to it's guardians!

33% of your money goes directly to FUTURO NATIVO - An Organization that supports and promotes sustainable, economic growth in indigenous communities. FUTURO NATIVO currently supports a project for the Boruca Tribe in Costa Rica. Rancho Brugrá is an ecotourism, ethnic tourism and artisan production project that aims to preserve the history and traditions of the indigenous territory of Boruca. The goal is to inspire a new economy and a more sustainable future in this region connecting travelers with the stories, traditions, crafts and natural beauty of Boruca ancestral land by building the cosmic ranch, and having a central place to invite people into the workshops.


https://www.futuronativo.org/
If you experience issues with the download please contact me on medicinemusic@posteo.de I am happy to help you out and make sure that you receive what you have ordered, however there will be

 

NO REFUNDS

 

once you have placed an order.
Important Notes:
You need the latest version of Ableton 10 or higher for the template to work properly.
After the payment a download-link for the zip-file will be sent to you automatically via email. You need a program to unzip this file.
For windows I recommend to use winrar which you can get here for free:
https://www.win-rar.com
If you work on a mac I suggest to use keka which you can dl for free here:
https://www.keka.io
All the loops are recorded in 120 BPM and are sound best at that tempo however feel free to try out faster and slower tempos +- 15 BPM

If you have any questions or problems please send me an email to medicinemusic@posteo.de