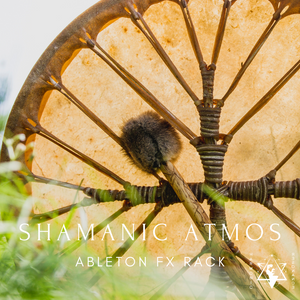 Please watch the video above for an In depth presentation and to find out how to use it.
✨🧙🏼🧙🏼‍♀️🧝🏼 SHAMANIC ATMOS is an Instrument FX Rack for Ableton Live that contains 128 effect sounds which create a ceremonial, ritualistic and shamanic atmosphere in your productions, live performances and dj-sets.
The Rack features various organic shamanic fx sounds and risers like shaker, rainmaker, flutes and various swoosh FX which are great for transitions and intros.
In addition you find sounds that imitate the jungle ambience like wood percussions, ocarina bird calls, rustling leaves and authentic shamanic ceremony sounds.
The sounds are nested into an FX rack that allows control over Echo, Reverb, EQ, and Panning.
This FX Rack is designed for producers, DJs, Sound Healer, Yoga- and Breath-work Teacher and  the ideal upgrade for your DEEP SHAMANIC JOURNEYS or DOWMTEMPO SHAMANICO template.
If you experience issues with the download please contact me on medicinemusic@posteo.de I am happy to help you out and make sure that you receive what you have ordered, however there will be NO REFUNDS once you have placed an order.