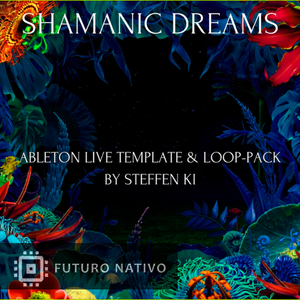 This pack includes more then 300 recorded loops and samples feat. recordings of RARE & ANCIENT INDIGENOUS INSTRUMENTS ready for you to use in your favourite DJ Software. 
This loop pack was designed with the intention to be able to produce and perform high vibrational music within the realms of 3 of my favourite genres: AMBIENT, SOUND JOURNEYS and SHAMANIC DOWNTEMPO MUSIC.

The main focus was to create a deep dreamlike, ceremonial and meditative atmosphere thus a lot of the sounds got a special sound design treatment. Again I wanted to be able to play within the polarities of light and dark so you can choose whether you want your tracks to be light, magical and gentle or dark, mystical and eerie.

Whether you are a sound healer, sonic alchemist, teach meditation, yoga or breath work, practice energy healing, facilitate (plant medicine) ceremonies or are a producer that would like to add shamanic and organic vibrations and soundscapes to your work this pack has you covered!

The loops contain :
🔥 3 different types of DRONES

1. Single Note Drones:
those are great for a rich and warm low end that helps us ground and get into a deeper trance like state
2. Multiple Note Drones:
as the arrangement or performance evolves you can add a little more movement, emotion and color to your low end with those Drones
3. Multi-Layer Drones:
Those Drones are a combination of complex and evolving sound scapes across the whole frequency spectrum that will give your creations a magical and mystical vibe

🔥 2 Different Types of PADS
1. Warm & Dreamlike Pads:
float away into bliss, deep peace and shimmers of serenity with those warm and enchanting sound carpets
2. Layered-Atmo-Pads:
take the listener even deeper and further into a place beyond time and space
and create emotional depth and harmonic movement
🔥SHAMANIC DRUMS
2 Different Shamanic Drums (a softer Frame Drum and a stronger Buffalo Drum)   have been recorded and mixed to give you a high audio quality while maintaining the natural sound and feel of the drum. The drums are played in different rhythms and intensity from a slow soft heart beat to a faster trance-inducing rhythm.
🔥 WARM KICK DRUMS

I created a variety of very soft, gentle, round and warm Kick drum Loops because I wanted to have a strong rhythmic element that however is not over-powering the other elements

🔥 DRUMS AS BASS

Instead of a Bass instrument I recorded a special ancient ritual-drum played in different rhythms  to support the Kick as a sort of bassline and to  add a warm and groovy feel

🔥TRIBAL AND ORGANIC PERCUSSION LOOPS

This is as organic as it gets :)  I combined recordings of natural elements like trees,wood pieces and leafes with ancient traditional indigenous instruments to create unique rhythms that honor mother nature.
🔥SHAMANIC SHAKER LOOPS
Different Shamanic Shaker have been recorded as rhythmic and atmospheric elements. Shakers are used in Ceremonies and Rituals to cleanse a space and to remove negative energy.
🔥SOUND HEALING INSTRUMENTS
I recorded Steel Drums (like Hapi and Tongue Drum) and other Sound Healing Instruments like Bells, Gongs etc. and processed them with special sound design fx to create shimmery pad-like melodies and soothing sonic textures.

🔥ATMOSPHERIC FLUTE PADS & ORNAMENTS
Those bamboo flute recordings have been processed with sound design effects to create a powerful ceremonial and mystical atmosphere. They also add warmth and movement to the journey and can evoke deep emotions. They can be combined together in almost infinite ways to create ever-changing and interesting soundscapes throughout the journey.
🔥FIELD RECORDINGS OF NATURE
to connect deeper with the wisdom and healing power of the Earth
🔥MYSTICAL & TRIBAL ATMOS
instrumental, natural and vocal atmosphere sounds created by traditional indigenous instruments teleport us straight into the jungle

🔥SHAMANIC ATMOS FX RACK
SHAMANIC ATMOS is an Instrument FX Rack for Ableton Live that contains 128 effect sounds which create a ceremonial, ritualistic and shamanic atmosphere

The Rack features various organic shamanic fx sounds and risers like shaker, rainmaker, flutes and various swoosh FX which are great for transitions and intros.
In addition you find sounds that imitate the jungle ambience like wood percussions, ocarina bird calls, rustling leaves and authentic shamanic ceremony sounds.
The sounds are nested into an FX rack that allows control over Echo, Reverb, EQ, and Panning.
By purchasing this template/loop-pack you give back to nature and to it's guardians!

33% of your money goes directly to FUTURO NATIVO - An Organization that supports and promotes sustainable, economic growth in indigenous communities. FUTURO NATIVO currently supports tribal villages in Brazil who need support with reforestation, education and regenaration. For more infos please visit:

https://www.futuronativo.org/
 If you experience issues with the download please contact me on medicinemusic@posteo.de I am happy to help you out and make sure that you receive what you have ordered, however there will be NO REFUNDS once you have placed an order.
If you have any questions or problems please send me an email to info@harmonic-resonance.com
All the loops are recorded in 60 BPM and are in the Key of C MAJOR. They sound best at that tempo however feel free to try out faster tempos.