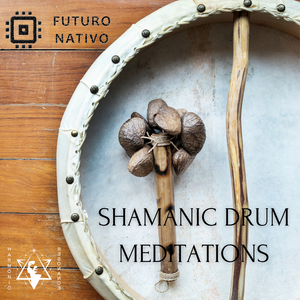 SHAMANIC DRUM MEDITATIONS is an easy to use yet powerful tool to help you create and perform Shamanic Sound Journeys.
Shamanic Drums are ancient Sound Healing Instruments that have been used for Aeons by our Ancestors to help us relax, ground and to get into a meditative or Trance-Like State.
The loop-pack features:
8 SHAMANIC DRUM LOOPS:
- 2 Different Shamanic Drums (a softer Frame Drum and a stronger Buffalo Drum)  have been recorded and mixed to give you a high audio quality while maintaining the natural sound and feel of the drum. The drums are played in different rhythms and intensity from a slow soft heart beat to a faster trance-inducing rhythm.
8 SHAMANIC SHAKER LOOPS:
2 Different Shamanic Shaker have been recorded as rhythmic and atmospheric elements to support the Drums. Shakers are used in Ceremonies and Rituals to cleanse a space and to remove negative energy.
8 FIELD RECORDINGS OF NATURE:
Nature is the greatest (Sound)Healer and those high quality Field Recordings capture the magical atmosphere of the Jungle by day and  its mystical vibe at night depending and the mood you are looking for.
8 ATMOSPHERIC FLUTE-PADS & 16 FLUTE- ORNAMENT-LOOPS:
Those bamboo flute recordings have been processed with sound design effects to create a powerful ceremonial and mystical atmosphere. They also add warmth and movement to the journey and can evoke deep emotions. They can be combined together in almost infinite ways to create ever-changing and interesting soundscapes throughout the journey.
By purchasing this loop-pack you give back to nature and to it's guardians!

33% of your money goes directly to FUTURO NATIVO - An Organization that supports and promotes sustainable, economic growth in indigenous communities. FUTURO NATIVO currently supports tribal villages in Brazil who need support with reforestation, education and regenaration. For more infos please visit:

https://www.futuronativo.org/
If you experience issues with the download please contact me on medicinemusic@posteo.de I am happy to help you out and make sure that you receive what you have ordered, however there will be

 

NO REFUNDS

 

once you have placed an order.
Important Notes:
If you have any questions or problems please send me an email to info@harmonic-resonance.com
All the loops are recorded in the Key of C Major and tempo of 60 BPM and sound best at that tempo however feel free to try out faster tempos.