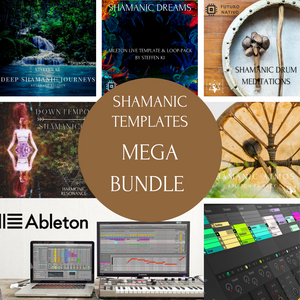 This MEGA BUNDLE  includes 3h hours of private online classes with Steffen Ki plus the following templates :
In the 3 hour live personal online classes via zoom I show you how to make the best use of these templates. I will show you my workflow and tips & tricks on how to create and perform music and sound journeys with those templates.
After you have purchased the bundle I will send you a dl link for the templates and we can organize a date and schedule for our first online class.
You need at least ableton 10 for the templates to work!!!
However you can download a 90 day free trial of ableton 11 suite on their website:
www.ableton.com/trial
If you experience issues with the download please contact me on medicinemusic@posteo.de I am happy to help you out and make sure that you receive what you have ordered, however there will be NO REFUNDS once you have placed an order.
Infos about your instructor:
 Steffen has been producing electronic music for more then 18 years now. He is also the curator of the medicine music label NUMA and co-founder of In Spirit : Holistic Music Production Retreat - a retreat that fuses the technical aspects of music production with spiritual practices to channel creativity and inspiration.
Up until today Steffen has produced and released more than 100 tracks in the genres of Deep House, Melodic Techno, Organic Downtempo, Ambient and Sound Healing- and Meditation Music. He shares his experience in personal and online 1-on-1 classes as well as music production workshops and mentors healing music producers in his Academy for Sonic Sourcery

 Follow Steffen's music here:
https://soundcloud.com/steffenkirchhoff
https://soundcloud.com/alunaritualmusic